Digital Asset Success & Insight Analytics
Analytics and measurability are crucial to a successful online management strategy. Whether this is content management, web engagement, or a fully integrated enterprise management solution, the outcome is the same: Without effective analytics overseeing the outcome of your online platforms, systems and strategies, how do you measure your brands connection with key audiences and overall success?
You need to know as much as possible about your audience, gaining enough information to create an optimal user experience regardless of device.
Ondigital's integrated online analytics solutions and campaign management include a detailed set up of all digital assets including websites and social media platforms that goes beyond the basics of Google Analytics.
Our analytics specialists have worked with many large and small scale analytics and customer insight implementations. We will ensure you have the advantages of the latest Google Analytics features, your own historical data and our insight to provide reliable, accurate, and relevant data to make your brands online marketing ROI-driven.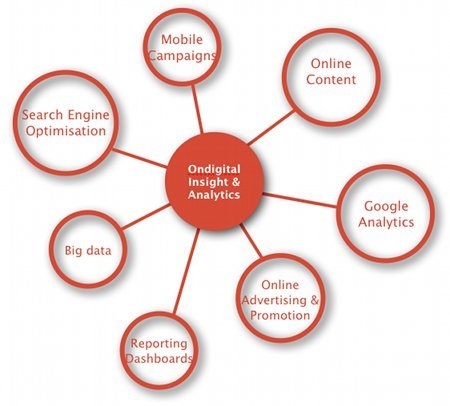 ---
Analytic Modules
We will ensure your online presence is optimised in any Google Search particularly on mobile.
We will identify and set up online goals (the key things you want people to do on your website) in Google Analytics.
We will confirm your AdWords is correctly linked and that your paid search traffic is being correctly reported by Google Analytics.
If you are transacting online we will work with you to set up e-commerce reports, so you have sales data inside Google Analytics.
We will set up Google Analytics so you aren't tracking your own visits to your website, through to advanced needs.
If your website uses multiple domains (or sub-domains) we will establish visitor measures as they navigate between domains.
We will put measures in place so you can see how people are using the forms on your website.
We can help you automatically track links and files so you can quickly identify where people are going and what they are downloading.
CRM Integration
Event and Promotion tracking
Custom Dashboards and Reporting
Mobile Apps
Campaign sites