Our Mission
We are passionate about the digital space and love to help brands connect and story tell with their consumers in the digital space through high value interactive platforms, great content and relevant, real time experiences.
Meet the team
Rob Leishman
Founding Partner - Technical Director
Rob is an experienced technologist and proven leader with the breadth of knowledge in Digital to tackle the latest challenges businesses are facing. Rob applies a global perspective to all solutions which has been shaped by living in four countries and engaging clients, suppliers and partners around the world to deliver innovation.
James Wilson
Founding Partner - Director of Sales and Marketing
James prides himself on delivering online solutions and innovative thinking to help create usable and customer friendly digital solutions that simply convert. James has a passion for implementing the no-brainers, cutting through any red tape and simply getting on with delivering online experiences that achieve results.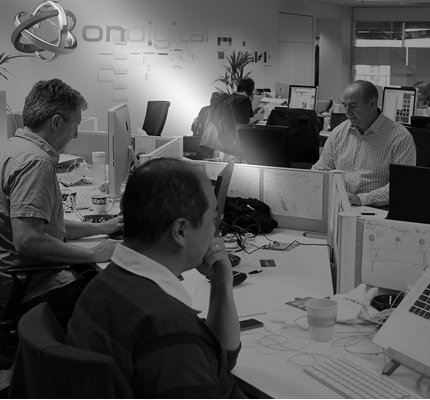 Our Dedicated Team
Creatives, Social Media Writers, Videographers and Developers
Our team at OnDigital bring years of experience in a wide range of creative, media and technical fields. We believe that being friendly and attentive is just as important as being clever and innovative with digital. When it's time to deliver our mission is to impress you. We will ensure you speak to your market in the most effective way.
We deliver precise strategic thinking and marketing direction backed up by a delivery team, that can turn your concept from vision to reality. The main core of our strategy is achieving targeted and measurable results. We can help you plan and deliver on all your digital requirements!
---
We're Storytellers
Often we're asked what we do. We help our clients create amazing and enduring experiences online. The power behind a great story creates a lasting impression that shifts behavior as it moves across the myriad of touch points in our connected world.
We develop stories that have no end, stories that enable people to become apart of and continue, this is the new digital reality of storyscaping in the virtual, physical and emotional space.We'll help you tell your story!
Whats your brand story?
Bringing ideas to life
Connected, mobile, social and empowered is todays consumer. This presents new challenges but also exceptional opportunities for brands to engage like we have not previously seen.
At Ondigital we have some of the most talented people in their field with significant capability and importantly vision. We like nothing more than bringing the right mix of minds, ideas and technologies together to create the magic that brings your brand closer to your customers.
Whats your idea?
How we deliver
There is never a best way to bring ideas to life in the digital world but there is a proven way that developed and evolved that our clients love.
Ondigital has developed a proven 6 step process that assures delivery and integration of an optimal cross channel digital platform. At each stage we input the talents and insight of each of our dedicated team of strategists, creatives, programers, social media and user experience experts.
Are you ready to start??